A Few Ideas for Supporting Association Chapter Leaders
By Colleen Bottorff of MemberClicks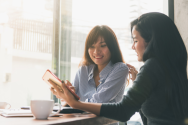 It's easy for communication to break down between the national organization and leaders at various chapter organizations. People get busy, often chapter leaders are volunteers, and trying to keep a dozen (or more) of them all on the same page takes a lot of collaboration and coordination.
So, what do you do? How do you support association chapter leaders from afar, ensuring that they feel like they're being taken care of and have the autonomy to manage their chapter?We have a few thoughts:
Manage anything brand-related 
The organizational branding - logo, brand colors, tone of voice, etc. - should be managed at the national level, and then trickled down to each chapter. Branding can be very nuanced, and it's very important to keep it consistent. That's a lot to ask your chapter leaders to manage. (Not to mention, a lot for the national organization to keep an eye on.) 
Take some work off your chapter leaders' plates and handle anything that needs to be branded or designed. We do recommend, though, providing them with a "brand book" (or, even a simple one-sheet document) that goes over the proper colors, fonts, tone, etc. for one-off needs. 
Schedule recurring meetings
Weekly, monthly, quarterly - whatever timing makes the most sense for your needs but schedule these meetings on your calendars and keep them. Your chapter leaders will appreciate having a dedicated time where they know they can get you one-on-one to pick your brain, overcome roadblocks, and vent frustrations. These meetings will also serve as a good time to help your chapter leaders delegate tasks. 

Provide ongoing training 
Does your organization have a formal onboarding program for staff and volunteers? Have you considered facilitating an online learning program specific to chapter leaders? Getting new leaders up to speed quickly - and continually training them - will help mitigate burnout (and turnover) and maintain alignment with your organization's goals and mission. 
It may sound daunting but starting any kind of online learning program is actually pretty straightforward. For tips on how to quickly start your own, download our free guide! 
Interested in taking your chapter management to next level? Check out AMCI's new Chapter Training Academy! This unique training tool utilizes expertise from both the association and AMC community to bring best practice tools and tips to equip chapter leaders with the knowledge they need to effectively manage growing chapter needs. Don't miss out on limited time introductory pricing, check out Chapter Training Academy today.
Share this post: