No Problems, Only Opportunities
Jeff Rose, Director of AMC Partnerships, Feathr



It's Wednesday, March 11, 2020, and I'm traveling around the greater D.C. area for client meetings. I'm washing and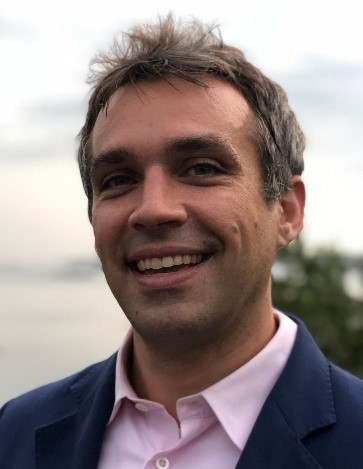 sanitizing my hands at every possible turn and tapping elbows and clicking heels in greeting – rather than shaking hands – but, generally speaking, most folks are not particularly concerned at this point about the novel coronavirus.
As I'm looking for a place to park downtown, I get a call from our President and he asks whether I think we'll still be able to host our live event there the following week. I respond enthusiastically that all my meetings have still taken place and that we'll probably fine. My response may have been colored with what most of my colleagues would characterize as "my perpetual optimism," but, as we all know now, I could NOT have been more wrong – and, in hindsight, I am a bit embarrassed at just how wrong I was.

The next day I flew home, and it was almost immediately apparent that our world was very truly turning upside down. Clients started canceling or postponing events, workforces started going remote, and I, personally, put myself into a 14-day lockdown after finally internalizing the severity of the situation and the fact that I'd put myself at high risk for exposure to the virus.
And now, here we are, 5 months later in our "new normal." The last few months have been a whirlwind of pivoting, adapting, revising, and generally trying to make sense of a situation that none (ok maybe a few doomsday preppers) of us were prepared for. Let's be honest. It has not been easy. To say that the previous months have been filled with anxiety, uncertainty, and challenges might be the understatement of the century. But, at the end of the day, I find myself channeling some wisdom dropped on me by an old mentor of mine. Whenever we were faced with challenges, he would say, "No problems, only opportunities."
In all fairness, I used to hate this saying and thought it was a little trite and reductive, but these words have taken on a whole new meaning in the context of our new normal. Everyone is facing similar challenges presented by the impact of Covid-19. We're looking at lost revenue, the fire drill of pivoting to virtual events, tackling the problem of finding ways to support a remote workforce, and servicing the needs of our communities and industry partners virtually. It's been a bit of maelstrom.
But amidst all of this, I've observed countless silver linings. We're finding new ways to realize revenue and recoup/retain revenue that was expected to be lost. We're seeing virtual events drive innovation and help reimagine what events and community engagement will look like in the future. Many companies are finding themselves pleasantly surprised at how well their staff adapted to remote work. And, perhaps most importantly, the association community is discovering that there is a huge opportunity and an appetite for online engagement in this strange time.
We've seen our AMC and association partners continue to effectively support their clients, members, delegates, and partners throughout this whole ordeal, and provide indispensable guidance in the form of best practices, resources, and, more generally speaking, strong content. Amidst all of this craziness, organizations are establishing themselves as the thought leaders, and the innovators that will guide us successfully into whatever tomorrow will look like - and that is still very much up in the air. 
Not everything is going to change, but things will also never be the same. In this man's opinion, live events will come back, and they'll be back with a vengeance. I think, once everyone feels safe, we'll flock to our industry events and relish the opportunity to reconnect face to face with our colleagues, clients, and friends. We'll revel in the post-event happy hours and activities (it's going to be hard to top the high wire unicycle I got to ride in Columbus last year – props to ASAE for that unique experience) and probably stay up too late before a packed schedule of sessions starting at 7 am the following morning.
But, most organizations are going to find it difficult to ignore the fact that by offering virtual or hybrid events, they have an opportunity to include more of their community. And many are already reaping the benefits, both measurable and intangible, of developing a strong digital engagement strategy and fostering robust online engagement (something that is long overdue for this space). The current crisis is acting as a forcing function for developing more robust and continuous online engagement strategies 365 days a year.
No, virtual events aren't going to replace live events, but they are here to stay. There are too many benefits to ignore. More people can attend virtual events (since the barrier of travel and cost are – respectively - non-existent and often lower) and we've consistently seen our clients overperform on their attendance goals – even though attrition tends to be higher in a virtual setting. They also offer some unique data capture opportunities, which, in turn, provides digital marketing opportunities for sponsors. And these are significantly more trackable than their in-person alternatives. We're seeing an enormous appetite for this in the context of all the stalled pipelines of industry partners with live events on hold, and I would be shocked if this appetite just disappeared post-pandemic. However, with all that being said, I'm not sure there will ever be a suitable "virtual stand-in" for the hugs, handshakes, and laughs we get to share with our compatriots in-person. Things are changing, but some things can and should stay the same.
 In short, the industry is seeing what I would characterize as a felix culpa. We're experiencing a great deal of hardship right now, but this will lead to an even brighter and more successful future down the road, characterized by innovation and a robust hybrid strategy of both virtual and in-person engagement. Sure, this may sound like a bit more of that perpetual optimism, but that doesn't mean I'm wrong!
About Jeff Rose
Jeff Rose is the Director of AMC Partnerships at Feathr. He joined Feathr in August 2018 after spending 10 years in the Point of Care Advertising Industry where he managed partnerships with regional and national health systems. Jeff loves reading and writing, the outdoors, all things frisbee-related, and is thrilled to now be working in the vibrant and exciting community of associations and events.

About Feathr
Feathr is the digital marketing toolkit for associations and events. We help our partners with data-driven solutions that make it straightforward to leverage the powerful and proven channels of programmatic and influencer marketing to drive awareness, engagement, revenue, and growth. We also provide a powerful solution to help clients monetize their data through sponsored retargeting. Feathr's turnkey and accessible solutions provide clients with results they can track and measure in order to level-up and constantly improve their digital marketing efforts. Feathr partners with over 700 associations internationally and has worked with over 4,000 events.
Share this post: