Gain a Competitive Advantage with a Workplace Wellbeing Program
In short, employees with strong wellbeing perform better at work, and companies with a thriving workforce have greater success and a solid competitive advantage. While that sounds simple, the reality is that life and business are complex, even more so over the past eight months. The good news is that savvy employers are stepping up, even with limited budgets, to make a positive impact on employee wellbeing through wellbeing programs. 
However, not all employers are embracing these programs. In a recent poll, when asked "Do you feel prepared to develop a competitive wellbeing program?" 63% said they were not prepared or unsure if they needed to be. Perhaps knowing the many advantages of developing and sustaining a thriving workplace culture will shift that response – and benefit those employers who make that shift.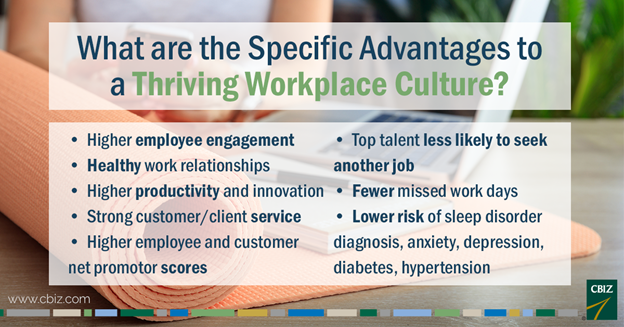 So what are the specific advantages? They include, among others:
Higher employee engagement
Healthy work relationships
Higher productivity and innovation
Strong customer/client service
Higher employee and customer net promoter scores
Top talent less likely to seek another job
Fewer missed workdays
Lower risk of sleep disorder diagnosis, anxiety, depression, diabetes, hypertension (improved outcomes)
Interested in what employee benefits other businesses in your area and industry are offering in wellbeing, voluntary, long- and short-term disability, Rx and more? Check out our 2020 Employee Benefits Benchmark Report.
Key Elements of a Competitive Wellbeing Program
It's aligned with company culture and industry best practices. Qualities of a program that meet this standard include:
Values-driven
Human-centered
Ethically sound
Evidence-based
Nondiscriminatory
Inclusive
It addresses the needs of the whole person. These are the five key drivers:

It's strategically designed and delivered. There is no one formula that works for everyone, and what truly makes a program unique is the twist your organization places on it. However, every program needs a framework comprised of six basic elements:
Organizational commitment
Actionable data
Sustainable culture
Wellbeing benefits and networks
Communication engagement and methods
Outcomes and value of investment
Compliance Considerations
Compliance is critical to the overall success of a wellbeing program and, of course, to avoid penalties, fines, lawsuits, and the like. The laws, rules, and regulations are complex, so be sure to consult your legal advisor when constructing your wellbeing program. The following is a list of compliance issues you will need to attend to.
| | |
| --- | --- |
| | |
| | |
| Reasonable alternative vs. reasonable accommodation | |
Specific laws that impact wellbeing programs include, among others:
| | |
| --- | --- |
| HIPAA (portability & privacy) | |
| Title VII of the Civil Rights Act of 1964 | |
| | |
| | Federal & state discrimination laws |
A thriving workplace culture is essential to employee health and positive organizational outcomes. A wellbeing program will help you achieve this culture and give your business a substantial competitive advantage. It may seem like a lot, but with the proper advisors and leadership support, your organization will achieve success.
If you'd like more information for developing your workplace wellbeing program, contact Steve Wilson at [email protected].



Share this post: