This is a guest post by Executive Director, Inc.

When participating in staff interviews with people who have a community non-profit background as opposed to an association background, we often make a point of stating that while the associations that we serve do good, we are not feeding the hungry at Executive Director, Inc. (EDI) – except for two weeks per year. These are the two weeks in December that EDI holds its "Food Fight" to raise funds for the Hunger Task Force of Milwaukee. In a typical year, the winner is announced at the annual State of EDI celebration on a Friday in late December. In 2019, the executive director of the Hunger Task Force attended this event to communicate her appreciation of how extraordinary EDI staff's contributions were given the size of the company.
For 28 years, EDI has held a competition among staff members (East Side of the building versus the West Side) for the coveted Food Fight trophy. A number of small fundraising events are held each day. Examples include:
The ugly holiday sweaters pass where those who receive the sweaters last must wear them to the State of EDI;
An indoor corn hole tournament to win bragging rights;
A not-so-silent auction;
Cooking competitions and potluck lunches;
Candygrams;
Team trivia competitions;
A holiday photo booth.
The highest profile activity is to win the opportunity to somehow humiliate EDI's VP of Finance, Dan Nemec, who started the tradition. Staff contribute funds for these opportunities, including the chance to throw a pie in his face, duct tape him to a chair or take buzz clippers to his hair.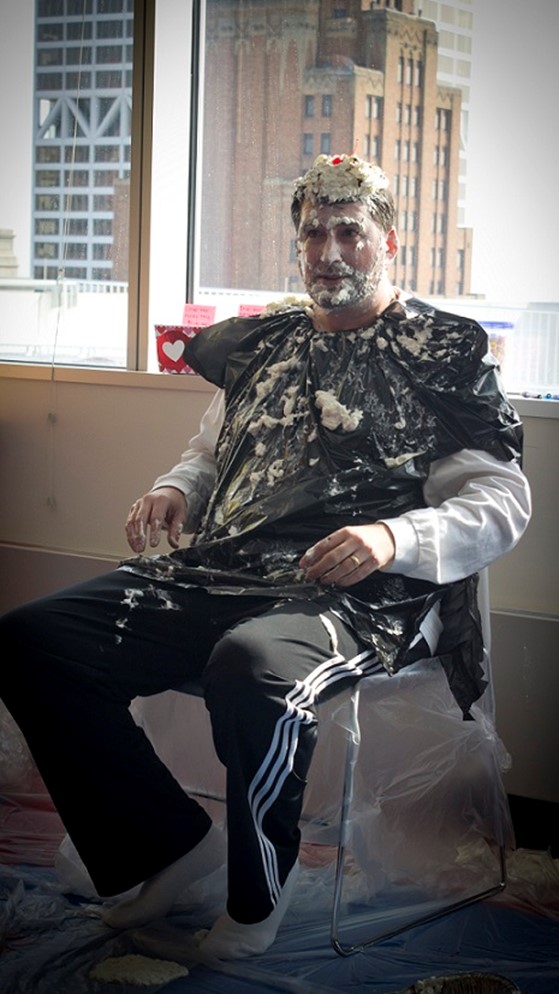 Over the years, these activities have raised a total of $346,000 and 22,000 pounds of food for the Hunger Task Force of Milwaukee. Staff members, family members and even client leaders all look forward to contributing and seeing photos of the competitions.
Unfortunately, every city has the need for a food bank. When the activity began, staff donated actual food items. That required a referee to determine what counted as "one" food item as well as some logistical challenges when a pallet of cheese crackers arrived at the office. For these reasons, and the fact that the Hunger Task Force's buying power can purchase more food dollar-for-dollar than individuals, we converted to cash contributions about twenty years ago.
Modifications were made to make this a successful virtual event in 2020 and it will be virtual again in 2021. We all look forward to the in-person camaraderie of the 2022 EDI Food Fight.
Share this post: